The Wave
Fascism goes beyond Nazi Germany.

Based on a true story, a young 1967 history teacher dealing with The Vietnam War and integration into the public school system, tries to deter his students from the allure of fascism through a daring social experiment that spirals out of his control. The "experiment" illustrates how individual freedoms can be quickly abandoned and willfully repressed for collective goals and racism as happened in the rise of Nazi Germany and the treatment of the Jews during World War II.
UpComing Performances
Trailer

Reviews

"Kovach is an engaging and agreeable storyteller who holds our interest throughout..."The Wave" makes for thought-provoking Fringe viewing."
-Cincy Enquirer '13

"Kovach commands the stage and his audience with ease."
-CityBeat '13

"Truly interesting... Deftly illustrates how individual freedoms can be abandoned for collective goals."
-Behind the Curtain '13
History to Date
| | |
| --- | --- |
| In 1976 Ron Jones wrote a short story based on his own experience at Cubberley High School in Palo Alto, CA 1967. This was adapted into a novel by Todd Strasser (required reading throughout US schools), and shortly after into an "after-school special" film by Norman Leer. Ron Jones performed a storytelling at Cowell Theatre in San Francisco, CA, and a documentary LESSON PLAN by Phillip Neel was created in 2010. | Co-authored by Jon Kovach, The Wave is an adaptation created from Ron Jones' original short story, live storytellings, and poetry. Our production premiered at the '13 Cincinnati Fringe Festival, and has since performed at The Tank-NYC, Bay Street Theater, San Diego Fringe Festival, The National Underground Railroad Freedom Center, and at high schools across the Mid-west. |
Cast, Crew, & Supporters

Cast/Crew:

Jon Kovach- Co-Author/Actor/Producer

Ron Jones- Co-Author

Aaron Rossini- Director

Zach Weeks- Lighting Design

Nathan Leigh- Sound Design

Kelsey Torstveit- Costume Design

For Artist's Bios Click Here
​Supporters:
Special Thanks: Nancy Helwig, Charity Farrell, Chris Stewart, Clifton Performance Theatre, and Heather Campbell

Development:
Billy Chace- Director, Sound Design
Eric Hedlund- Lighting Design
Zach Gerberick- Media Design
Zach Cieslak- Lighting Operator
Peter Alexander- Stagehand
Brain Zielinski- Image + Poster Design​
Powered by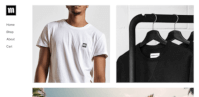 Create your own unique website with customizable templates.